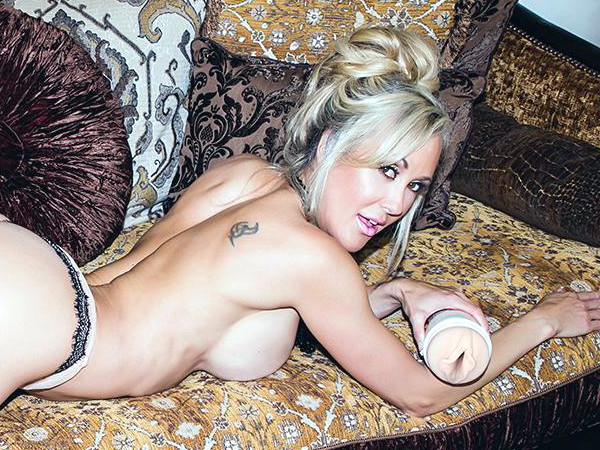 AUSTIN, Texas – MILF performer Brandi Love's fans have something else to be thankful for on Thanksgiving: two new Fleshlight products molded from her lady parts.
Love has cultivated a fan base of adoring men and women all over the world, and the "Love Troopers" have been clamoring to see the star immortalized as a pleasure product. Their wishes have come true. Not only can fans indulge in her exclusive Heartthrob Fleshlight, molded from her vagina, but they also can experience something that has never been filmed: simulated anal sex with her Shameless Fleshlight.
"We look at so many factors when selecting Fleshlight Girls, from their body of work to their longevity in the adult business and their marketing aptitude," said spokesperson Kristen Kaye. "All of it is reviewed when considering which girls to add to our line. Brandi was a no-brainer for us. She is wildly popular, incredibly professional and a force to be reckoned with when it comes to the marketing machine she runs."
Love said she has wanted to be a Fleshlight Girl for 10 of the 13 years she has been an adult performer.
"I have genuinely wanted to be a Fleshlight Girl since 2007, and I genuinely felt like they had no interest in me for some reason," she said. "I tried everything to get their attention, even soliciting the help of my loyal #LoveTroopers on Twitter. Destiny however, happens at it's own pace and in it's own time. There simply isn't a better time for [the] Hearthtrob [Fleshlight] to be released.
"I would have never believed that in 2017 I would be at the height of my career and shooting more than ever before," Love continued. "It's not just that I'm elated to be a Fleshlight Girl; I just cannot believe this honor is happening at this particular time. Not a chance, in my wildest dreams, could I have planned this better. There are lots of adult toys on the market, [but] there is only one Fleshlight.
"For those who have been anxiously awaiting my first anal scene, you can now count yourselves among the few who will ever have my ass," she added. "That's right: Shameless [a model of] my tight little booty, has been perfectly molded. Cum and get it, guys!"
Fans may get their hands on Love's most intimate parts exclusively on Fleshlight.com.