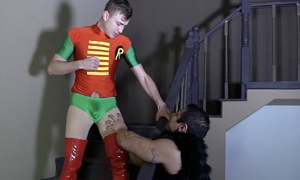 Man Up Films delivers the best films with men getting weird with each other. This week, Boy Wonder comes to Man Up Films for two new, exclusive scenes, and neither his mind nor his ass are safe.
Cape-wearing Boy Wonder (played by Zander Lane) wants to prove to Batman that he can handle big jobs on his own, but the Evil Draven Navarro is ready to take him down. In "Boy Wonder Mind Fucked," Robin finds he's no match for Draven's magic after Draven puts him under a Dick Spell and controls his with the trigger word "ass"—every time he hears the word, he shows Draven his ass. The next spell revolves around the word "balls," and every time Robin hears the word, he wants them squeezed…and hard. The third command word is "suck," and then means it's time for Boy Wonder to drop to his knees. Draven promises to show him off to all his villain friends.
"Boy Wonder Ass Fucked" leaves off where "Boy Wonder Mind Fucked" left off. The scene lives up to the title. Draven also continues to mind fuck Boy Wonder when he tells him he can bring him into justice after he takes his ass. Robin thinks he's making Batman proud, but in reality Draven is going to tell him exactly what went down.
"Zander and Draven are the perfect Boy Wonder and evil villain combo, and I really enjoyed directing them," says Lance Hart. "They both were flawless in their characters, the chemistry was amazing, and we had a hoot on set."
Both scenes are available to members only at Man Up Films. And, if you want to make exceptional money, become a Man Up Films affiliate. Sign up at Perv Out Affiliates and start raking in the cash.
To interview Lance Hart for your site, publication, or show, contact Erika Icon of The Rub PR at erika@therubpr.com.