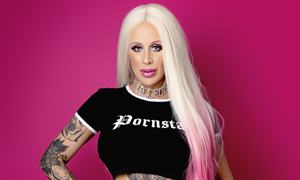 Be A Bimbo has announced that they are prepared to give away what could amount to hundreds of their new crop tops to adult stars and cammers.
Free attire has never been so simple or straightforward: All the porn starlets or cammers need is to have more than 20,000 followers on Instagram or Twitter and to send a direct message to Be A Bimbo or simply retweet their Twitter post about the promotion to be considered for collaboration.
Be A Bimbo will sort through the messages and select those who best fit the brand, notifying winners of their acceptance. Details will be sent on how to receive their clothing apparel. Winners are expected to share a selfie with the gear on social media and tag the company.
Getting a free – and great-looking piece of clothing – can literally be done in a matter of seconds!
The company, founded by adult star Alicia Amira earlier this year, aims to reclaim the word "bimbo" and to help erase the negative connotations that some attach to those who seek to improve themselves through plastic surgery and similar cosmetic alterations. The company is a big supporter of sex worker rights and female sexual empowerment and wearing clothing from the Be A Bimbo brand is a great opportunity for those inside and outside the industry to show their support for this important cause.
"There are many ways people can help advocate for adult performers and the methods some people – and it is by no means limited to people working in various facets of the adult business – choose to beautify themselves and we feel like spreading the word through Be A Bimbo attire is an easy and effective way for people to show their support," Alicia said. "I think a lot of people don't realize the impact adult performers can have on the opinions and perceptions of society in general, though certainly in recent years that has changed a lot. I think for a cammer or a porn star to show her support by tweeting a photo of herself in a Be A Bimbo shirt can really go a long way in helping bring people around."
She emphasizes that this offer is not limited to starlets who have had enhancements, that this is an issue that can and should be supported by everyone. Inclusion and acceptance are important as the industry, just as society as a whole, attempts to be less discriminatory and secure gender equality in ways the world has never seen before.
The crop tops were part of the fashion line announced by Be A Bimbo last week called "the sexworker collection".They include sayings like "Stripper Queen," "The Slut Life,""Plastic," "Fake". all of which has the print 'you say sexwork like it's a bad thing' on the back.
"It's all about being proud of who we are and taking back terminology that has been used in the past to hurt us or put us down," Alicia said. "Porn is easily one of the biggest industries in the world and there is no reason that we should feel bad about our part in it. On the contrary, it's time to be proud of who we are and demand society accept and respect us."
On Twitter, fans can follow/contact Alicia @aliciaamiraxxx and Be A Bimbo at @beabimbo. Her Instagram is @alicia_amira and the company's is @beabimbo. If you are a cammer or adult performer with more than 20,000 followers, contact them today for your FREE croptop. Everyone else can show their support and superb fashion sense by purchasing their Be A Bimbo attire.
Companies, brands and talent interested in business collaborations with Alicia Amira and Be A Bimbo should email corporate@beabimbo.com.