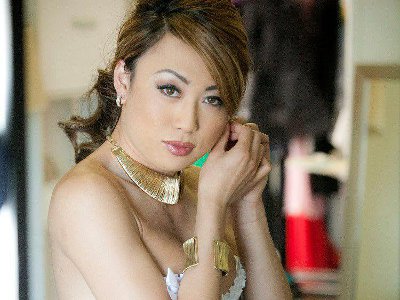 By Erika Icon
YNOT – New performers enter the adult entertainment industry every week. Some of them having staying power, and others figure out right away that they'd rather be doing something else.

Among each week's new recruits are a surprising number of transsexuals, also called T-girls. For a T-girl to "make it" in a very competitive arena, she must possess more than looks and libido. T-girls need a joie de vivre that's difficult to define but easy to spot.
Venus Lux has all three. Born male, Lux is feminine in a way that doesn't mock either gender. Scratch the surface of her exotic sexuality, and you'll find a down-to-earth, business-savvy individual. She operates her own website and already has big plans for a future in adult and beyond — and she's only 21.
YNOT: What made you get into adult? How long have you been in the biz?
Venus Lux: After being offered a porn gig by a talent scout at Kink.com, I thought about it and discussed it with friends and family. Once I got the support of my friends and family, I thought "Why not, since I have nothing to lose?" That was about five months ago, and from then on, everything has just blossomed.
What did you do before you got into adult?
Before the adult industry, I was an escort and stripper. I started escorting when I transitioned. The stripping is more recent. I've been doing that for a few months.
What studios have you worked with?
I've worked with Kink.com, Devils Film, Evil Angel, SMC Productions, Grooby Productions and Bob's Tgirls.
If you could work with any performer in adult, who would it be? Why?
I watch a lot of gay porn and there are so many performers I'd love to work with, but I can't remember most of their names. The only person I can think of is Cody Cummings. He has a great body and face and a perfect-size cock. He's the type of guy I like: rugged, dark, masculine and virile.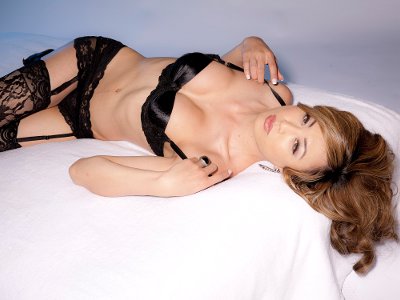 You plan to take care of the operation of your website, Venus-Lux.com, yourself instead of handing everything over to an affiliate network. That's a ballsy, yet businesslike, move for someone so new in the industry. Why did you decide to go that route?
Well, I'm a business-minded girl with ambitions of success. It is ballsy, but I believe independence will be more beneficial in the long run, if the site is managed and promoted professionally. I'd rather get more for my buck, and I'm willing to take on a few more responsibilities. Plus, I don't have anyone shooting down my ideas.
I'd like to utilize the website's platform as a stepping stone for future projects and opportunities. I've got many hopes, ideas and skills; I just wish I had more time, as I'm impatient, eager and ready to go with all of them.
What do you want to be known for?
I want to be known as the transsexual who can do it all. I don't want to isolate myself just to the porn industry. I want to embrace the opportunity to succeed in mainstream, adult and the business world. My short-term dream is to build an empire, a legacy for myself and my family and one day say, "Yup, I did it, and I'm proud of my accomplishments." Life is too short not to take risks.
You're only 21 — still very young. How old where you when you decided to live your life as a T-girl, and what was the transition like?
I'm young, but don't judge me by my age. I decided to transition in March of 2009. I can barely remember what it was like, because it seems so long ago. God, I feel old.
I say I'm still transitioning, because I'm still learning new things about myself in my new life and dealing with my insecurities.
Transitioning was difficult at the beginning. I started off cross-dressing for a few weeks before going on hormones. Only a few weeks after that I learned what transgender was from another transgender girl, who's actually my best friend today. I remember everything happened so fast that even my doctor was hesitant to prescribe hormones.
Being a girl then was freaking high maintenance and a huge adjustment, especially since I didn't have a job and only had a little money. It was tough: makeup, hair extensions, new clothes, adjusting to my new skin, mentally adjusting, understanding perspectives and my insecurities of not being passable enough, dating and finding work. For the first few months I was somewhat depressed, because I was eager to become a passable transgender woman and basically had to re-plan and restart my life from square one. I was too scared and insecure to find a real job, hence my decision to escort. At 19, it was extremely hard to find a job as a transwoman. But I sucked it up and escorted to survive. At that time, it was the only option I had, but it was the best. It has gotten me to where I am today. I'm thankful I'm still alive … and thriving.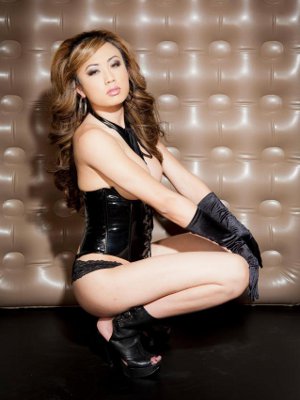 Another thing that sets you apart from other T-girls is you seem to be an all-natural beauty. Have you had any plastic surgery? Are you planning to surgically sculpt anything?
I'm all natural except for my boobs. That was a decision I made during my stripping days based on conformist thinking that transwomen must have boobs to be beautiful; otherwise, they're just like all the other cross-dressers. Now, I kind of regret the decision. I wondered how large my boobs would've been if I grew them naturally over time.
I really don't have many plans for additional surgery, except maybe my butt and my jaw line. Insecurities, insecurities. Ah, the life of a transwoman.
Since you've gotten into porn, has your sex life changed? If so, how?
Well not dramatically, but to a degree yes. Porn has allowed me to experiment and explore my sexuality in a manner I was never able to do before due to insecurities. Now, I'm able challenge myself and try everything sexually possible, as long as it makes good entertainment. I'm much more open-minded and sexually curious.
What's coming up for you?
You can positively expect many things to come in the future, including launching a solo site, playing the role of Linda in an indie film called Little Saigon, more mainstream acting roles and the expansion of my company.
Where can fans and producers find you?
They can contact me via Twitter or Facebook, for now. Soon, my modeling site will have an area dedicated to bookings, updated traveling itinerary and availability.