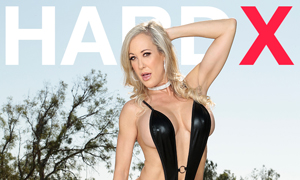 VENICE, CA – Brandi Love is the woman who has it all and for Valentine's Day she got a little more thanks to a romp with the reigning long dong champion of the adult industry, Mandingo.
Mason directed the scene, which appears in the fourth volume of Meet Mandingo for Hard X.  Dressed in thigh-high boots and an outfit that covers only slightly more than a pair of shoestrings, the Mandingo pokes and prods, arguably hitting spots no other man has ever been able. Oh, the joys of one of the world's biggest cocks!
"Working with Mandingo is the kind of thing you put near the top of your resume," the reigning XBIZ MILF of the Year Brandi Love and February 2018 Girlsway Girl of the Month said. "It can really psyche you out if you let it, he's really that big, but I go in there knowing we're going to have a blast and the scene is going to be spectacular. He's a genius with that cock!"
As this month's Girlsway Girl of the Month, the company is releasing several hot new Brandi scenes.  The latest is a 2-for-1 with Jenna Sativa and Nicole Aniston. Nicole is Brandi's boss, but Brandi is a conniving cutie and she usurps Nicole's power by reassigning Jenna so that she reports only to Brandi. Oh, man! Nicole is pissed! She storms into Brandi's office threating to take her to court. Knowing she is out of options, Brandi gives: "What do you want?" she asks her angry boss.
"Eat my pussy!" Nicole demands. Brandi complies and, naturally, Jenna has to join in, too, or her boss will not be satisfied. You can't just leave a hot underling sitting on the sideline with her pussy all wet and untouched. It's a girl/girl/bosswoman where everyone wins.
Grab a copy of Meet Mandingo Volume 4 by visiting https://www.adultdvdempire.com/1947416/meet-mandingo-vol-4-porn-movies.html or wherever adult content is legally purchased.
Check out this hot new scene at https://www.girlsway.com/en/video//Showcases-Brandi-Love—2-Scenes-in-1-Scene-01/129972.
Watch Brandi's GOTM interview at https://www.youtube.com/watch?v=FxT7J1mtD3Q.
Check out Brandi's recent Brazzers scenes at https://www.brazzersnetwork.com/profile/view/id/1621/brandi-love/?ats=eyJhIjoyMzQyNjgsImMiOjQ5Mzg5MDAyLCJuIjoxNCwicyI6OTAsImUiOjI3NywicCI6MTF9.
Read the Men's Health feature "MILF Porn Star Brandi Love Talks Penises, Orgies, and Whether She'd Bang Trump" at https://www.menshealth.com/sex-women/brandi-love-milf-porn-president-trump.
Get her Fleshlight at https://www.fleshlight.com/products/brandi-love.
Check out her VR scenes at https://vrporn.com/pornstars/Brandi-Love/
SOCIAL: Twitter and Snapchat: @brandi_love
OFFICIAL WEBSITE: http://www.brandilove.com
BOOKING: Nexxxt Level: http://nexxxtleveltalentagency.com
PRESS/MEDIA CONTACT: Rising Star PR, info@risingstarpr.com, @RisingStarPR
For everything Brandi go to http://risingstarpr.com/clients/brandi-love/.