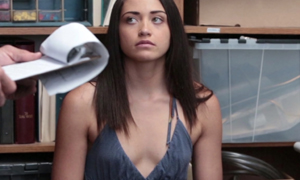 Everyone knows Avi Love has something cooking in her panties but on a recent trip to a store she loves the loss prevention professionals suspected she had a little extra something down there and they weren't thinking about her famous bush.
She was suspected of sticking merchandise into her drawers and, while she denied it, they knew they needed to take a closer look. As things unravel in Shoplyfter 5 (Crave Media), it turns out that Avi had been a dirty little thief. Locked in a backroom office naked and afraid, she sees no out other than allowing her law-and-order captor to sink his cock into her young ass. She swallows his cock eagerly and, bent over on his desk, she looks back at him with her dreamy eyes as he sinks his rifle into her target. The drilling continues until the delinquent has helped him evacuate his balls.
"I admit it now, I stole a couple things," Avi said. "The truth is, I'm going to do it again. If you want to discourage me from doing something the last thing you should do is 'punish' me by fucking my ass. I love it! And if that's what it takes to get a long cock shoved in my backdoor, I will do it! If that's wrong, I'm sorry."
Avi also stars in Interracial Anal Glory Holes 5 (Blacks on Blondes), another scene that rewards her with some butt-banging.  Also look for her in BAM Visions' latest, Real Anal Lovers 4, where she takes Mick Blue's cock and matches it with a dildo for a dirty double penetration.
WATCH AVI:
Shoplyfter 5