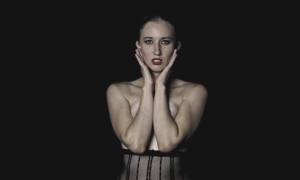 Imagine for a moment that you've carved a hole into a wall, you stick your dick through it and Avi Love is on the other side, worshipping your cock, sucking it and even fucking it. Luckiest glory hole day every, right?
Well, imagine no more! Avi stars in Interracial Anal Glory Holes 5 (Blacks on Blondes) and she gives that poking stick so much more than could ever have been expected. Of course, from Avi's perspective, it's just what she does: She sees a big and beautiful black hard cock nearby, she's going for it. And she does.
She goes straight for the cock, sucking and stroking it, thrilled by its gargantuan size, its solid build and once she has satisfied her oral fixation, she goes on to bigger things, propping her body up and letting that knob slide into her ass.
"The glory hole is one of those funny fantasies that a lot of women won't admit, but it's so devilishly dirty that I don't see how you can't at least fantasize about it," Avi said. "I'm lucky I get to play these fantasies out for all to enjoy and this scene was amazing!"
Avi also stars in BAM Visions' latest, Real Anal Lovers 4, where she takes Mick Blue's cock and matches it with a dildo for a dirty double penetration.