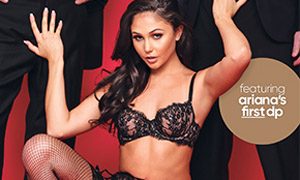 Fans already love young, petite princess Ariana Marie, and with the guidance of director Chris Streams, she's stepping up to her nastiest pursuits yet. The veteran filmmaker's first Evil Angel Films movie captures the porn pixie's evolution in "Ariana Marie: A Little Bit Harder," premiering August 15 on DVD and VOD.
The star showcase includes Ariana's first double penetration ever. With an A-list supporting cast, she also handles interracial, girl-girl and rough sex action. A trailer at EvilAngelVideo.com proves that the brown-eyed emerging superstar only looks innocent..
"Working with Chris Streams on his first EA project was such an honor," says Ariana. "He truly is one of the best in the business. He made me feel so comfortable. He's very chill, but knows how to get the best from his performers. With a team like Chris Streams and Evil Angel, I knew this project was going to be epic!"
Says Streams, "I like a stylish product: A beautiful girl dressed sexy in a cool location, and then aggressive, high-energy sex. I'm really proud of how all the movie turned out." Describing Ariana's DP debut as "polished and glamorous," he adds, "Ariana's really cool. It surprised me that such a tiny girl could take so much meat."
Evil Angel Vice President of Product Chris Gentile notes that, "Response has been very strong. Ariana's DP is the top-performing scene on EvilAngel.com this year. We're excited for fans and site users to see the remaining scenes."
Ariana reveals that the double penetration "was in fact my very first DP ever, on or off camera, and it was such an amazing, exciting, intense and memorable feeling! I loved working with Markus Dupree and Steve Holmes. They were both sweet, professional and oh so good at what they do."
Ms. Marie is similarly enthused about the rest of "Ariana Marie: A Little Bit Harder." Regarding her girl-girl scene with up-and-coming Jill Kassidy, Ariana says, "I can see why she is the best new starlet. We shared lots of spit, orgasms, laughs and kisses." Ariana tells about her interracial pairing with Ricky Johnson: "He was very sweet when he arrived on set; we shared our dos and don'ts. I didn't really have any because I just wanted him to fuck me hard and do what was natural."
The star raves about a backdoor scene with a stud she's had her eyes on: "Probably one of my favorite anal scenes I've ever shot, being that I finally got to fuck Small Hands! We started with some regular, vag sex because I wanted to feel him in both my holes. Then all anal after that. It was so hot, passionate and aggressive, which I loved! I like it when a guy takes control and just fucks me the way he wants, and that is exactly what happened."
Streams starts each scene with a split-screen tease segment in which Ariana shows off her natural, tan-lined body in sexy lingerie. The director's eye for beauty and his refined cinematography mark all of "Ariana Marie: A Little Bit Harder."
Fans can expect more of Streams' luxurious erotica in "Oil Slick," coming from Evil Angel on September 19. Glistening, oil-soaked sex has long been one of his specialties.