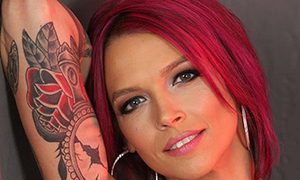 VENICE, CA – Anna Bell Peaks has a new interview with XCRITIC and it's a fantastic trip through her beautiful world.
She and writer Don Juan DeMarko go toe-to-toe in this comprehensive and revealing interview, which twists its way from Anna's introduction to the adult industry, digging back even to times before she was a famous porn star, a young professional bursting with sexual dynamite and looking for a different way to channel her curiosity and creativity – and she found it
But as she explains to XCRITIC, she was older than most ladies when they get into porn, and that allowed her to come in with a different mindset, one with more confidence and commitment than most 18-year-olds are capable of.
"A lot of people ask me how to get into this business and most of the time I say "don't!" You have to be a certain kind of person to really be successful in this job and I see far too many girls who are uneducated and are willing to do anything, they think to themselves, Hey, if I do anything that they say, then I will get booked more and I will make more money. Those are the type of people that within six months feel bad about themselves or that they did something that maybe they did not really want to do but they did it anyways because they thought it could be cool, but later they would just feel bad and have so much remorse and regret. I look at myself and I am a grown woman. I know what I want, I know what I like, I know what I do not like."
Her work in the adult industry has also opened her up to other people's fetishes and taught not to be judgmental – which is helpful getting through the day in Porn Valley where fetishes are being explored day and night on levels unthinkable by Real America.
"I have learned so much about what some people like," she said. "They might be huge foot fetish guys and they love to suck on toes and they love feet or they love stockings. People have found what they love. I learned that if you love that stuff then you simply own it. I have a huge panty fetish and I have no idea why I do. I just know that when I see a hot little pair of panties, it just turns me on immediately and I just want to grab it and I just want to smell it and I just want to touch it. I want to pull it up and down my body, I want to play with it and I want to stuff it in certain places. I just love 'em! I kind equate that to what other fetishes are that people have."
Read the entire XCRITIC interview with Anna at http://www.xcritic.com/columns/column.php?columnID=5367.
Vote for Anna!
Favorite Female Porn Star https://avn.com/awards/voting/favorite-female-performer
Most Amazing Sex Toy: Anikka Albrite Fleshlight https://avn.com/awards/voting/most-amazing-sex-toy
Most Epic Ass https://avn.com/awards/voting/most-epic-ass
Favorite Membership Site: BamVisions.com https://avn.com/awards/voting/favorite-membership-site
Anna's latest release, A Is for Anna 2 (Anna Bell Peaks), is #50 on the AVN Top 100 Sales & Rentals.
Join the hundreds of thousands who view her weekly Facebook Live shows for Inked Magazine's Inked After Dark. She goes live every Monday at 7 pm PST. Go here to like ABP's Facebook page and to catch all the past live shows athttps://www.facebook.com/theannabellpeaksxx. Inked Magazine's Facebook page is www.facebook.com/inkedmag/.
Anna Bell Peaks Summer 2017 American Tour
Dec 15-16: Tobies Lounge, Jacksonville, NC; 2 shows nightly
Social:
Official website: www.AnnaBellPeaks.xxx
Facebook: www.facebook.com/theannabellpeaksxx
Twitter, OnlyFans & Instagram: @annabellpeaksxx
IsMyGirl: https://anna-bell-peaks.ismygirl.com
Dream Lover: http://www.dreamlover.com/AnnaBellPeaks
YouTube channel: https://www.youtube.com/channel/UCuRqetmEVU6AUFHeWa85p7A
Content:
ManyVids: https://www.manyvids.com/Profile/152830/Anna-Bell-Peaks/
Customs & one-on-one Skype: annabellpeaksxx@gmail.com
MyFreeCams: Anna Bell Peaks
ImLive: Anna Bell Peaks
Chaturbate: http://chaturbate.com/affiliates/in/7Bge/n5KgV/?room=annabellpeaksxx.
MyPornProfile: https://mypornprofile.com/30409/anna-bell-peaks
Booking:
Shoots: OC Modeling http://ocmodeling.com/model/anna-bell-peaks/
Feature dancing: Derek at Lee Network (www.theleenetwork.com/stars.php?id=127)  and Dave Michaels at A-List Features (www.alistfeatures.com)
PRESS/MEDIA CONTACT: Rising Star PR, info@risingstarpr.com, @RisingStarPR
For everything Anna Bell Peaks go to http://risingstarpr.com/clients/anna-bell-peaks/.