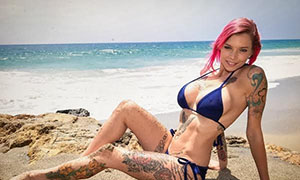 VENICE, CA – Anna Bell Peaks knows that Valentine's Day is special but not everyone has that special someone, so why not let Anna fill in and do anything you want?
She is one of the most popular models using ManyVids and fans can use the site to order a custom video for themselves. Come up with a holiday-themed scene or one for any time of the year. Anna is open to the plights of her fans and is ready to help.
"Doing customs is a blast because I can play to an audience of one and really focus on making him or her happy," she said. "People come up with amazing scenarios and they give me the opportunity to play with that."
On the other end of the spectrum, Anna is in the running for Brazzers House 3 and voting ends Thursday, Feb. 15 at noon PST. It's a very competitive group, but Anna has a strong fanbase and no doubt they would love to see her in this special situation.
Fans get 5 votes every 24 hours at https://www.brazzers.com/series/2419431/brazzers-house-3/.
Voting also continues for the Grossy Awards, where Anna has five nomination: Fan Favorite, Favorite Guest, Sexist Guest, Most Popular Guest and Favorite Adult Performer. Add to the tally at https://www.grossmisconductlive.com/the-2018-grossys.  Winners will be announced on GML on Monday, Feb. 19.
Everyone loves tattoos and if you're thinking about getting your own, take a look at this primer for beginners put together by Jen at Jen Reviews. Why go blindly in for a tattoo when you can enter having a pretty good idea what you want? Check it out at https://www.jenreviews.com/tattoo-tips/.
Anna Bell Peaks 2018 Winter-Spring Cross-Country Tour
Feb 23-24: Heartbreakers & Show Palace, Milwaukee, WI
Mar 16-17: Golddiggers, Fresno, CA
Mar 23-24: Northern Gents Club, Fargo, ND
Apr 20-21: Gossip, Long Island, NY
Check out the recent ADT interview that Captain Jack did with Anna at https://interviews.adultdvdtalk.com/anna-bell-peaks-love-the-d/.
Join the hundreds of thousands who view her weekly Facebook Live shows for Inked Magazine's Inked After Dark. She goes live every Monday at 7 pm PST. Go here to like ABP's Facebook page and to catch all the past live shows at https://www.facebook.com/theannabellpeaksxx. Inked Magazine's Facebook page is www.facebook.com/inkedmag/.
Social:
Official website: www.AnnaBellPeaks.xxx
Facebook: www.facebook.com/theannabellpeaksxx
Twitter, OnlyFans & Instagram: @annabellpeaksxx
IsMyGirl: https://anna-bell-peaks.ismygirl.com
Dream Lover: http://www.dreamlover.com/AnnaBellPeaks
YouTube channel: https://www.youtube.com/channel/UCuRqetmEVU6AUFHeWa85p7A
Content:
ManyVids: https://www.manyvids.com/Profile/152830/Anna-Bell-Peaks/
Customs & one-on-one Skype: annabellpeaksxx@gmail.com
MyFreeCams: Anna Bell Peaks
ImLive: Anna Bell Peaks
Chaturbate: http://chaturbate.com/affiliates/in/7Bge/n5KgV/?room=annabellpeaksxx.
MyPornProfile: https://mypornprofile.com/30409/anna-bell-peaks
Booking:
Shoots: OC Modeling http://ocmodeling.com/model/anna-bell-peaks/
Feature dancing: Derek at Lee Network (www.theleenetwork.com/stars.php?id=127)  and Dave Michaels at A-List Features (www.alistfeatures.com)
PRESS/MEDIA CONTACT: Rising Star PR, info@risingstarpr.com, @RisingStarPR
For everything Anna Bell Peaks go to http://risingstarpr.com/clients/anna-bell-peaks/.