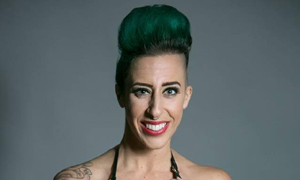 Seattle, WA –  YanksVR.com, the 100% female-produced amateur erotica VR studio and content site, has selected Andre Shakti as its YANKSVR Girl of the Month for November 2017.
The queer activist, educator, producer, writer and adult performer, who is "extremely selective about the film work I take on", has been a Yanks favorite since 2013, and is excited to represent the company's VR division as a Girl of the Month.
"Yanks sets are among my favorites to perform on; they're comfortable, casual, and fun! I love the emphasis on authentic pleasure and education… as a sex educator, it's unique and refreshing to have a porn site show interest in 'diving deeper' than just the moaning and groaning.
"I get to share past sexual experiences with the viewers, as well as give them detailed information about how my body ticks. Plus, I get to demystify certain aspects of sexuality, anatomy and pleasure for them in a super accessible way!"
Yanks director Lily Campbell shares the love right back: "It's an honor to work with Andre. I have such a giant amount of respect for the work she does and who she is. Her integrity, intelligence, and ability to both titillate and educate is captivating. I always want to work with her more."
The all-natural Jersey girl describes herself on her YanksVR model page as a 'dancer, horse lover and massive masturbator', and can currently be seen in her latest YanksVR performance, 'Andre Shakti's Lickable Labia' – via Oculus VIVE, Samsung Gear, Google Cardboard or PlayStation VR.
Each month, YanksVR shines a spotlight on one exceptional amateur performer that delivers powerhouse performances and earns high ratings and site traffic with Yanks.com fans – Shakti currently holds a 9.0 ranking with viewers.
Based in Seattle, Washington, Yanks.com started in 2002, the adults-only creation of Todd Spaits and Billie Miller as an unrestricted platform for 100% female-produced/directed amateur all-girl solo content from a woman's point of view. No acting, no faking… completely unscripted videos where girls play with themselves – and other girls – the way they do at home. Real girls and no rules equal real orgasms.
With over a decade's worth of all-girl erotica – the largest collection of digitalized user-submitted female masturbation stories online today with a library of well over 600 women and 100,000 scenes – the goal of Yanks.com is to boost its ever-growing audience of fans who desire women in their most natural state.