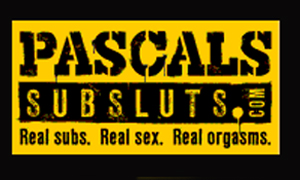 Cyberspace – PascalsSubSluts.com brings you another premium collection of mummy-whores who crave getting their assholes pumped and pummelled in the sizzling new DVD release Anal Milfs No Lube 4. It's an outstanding fuck-fest of wall-to-wall rough sex and repeat female orgasms that no fan of slutty sub milfs can possibly ignore.
Nova Shields and Sasha Steele are self-proclaimed nymphomaniacs who go bat-crazy if they're denied dominant dick for more than a few hours. Jenna Joy is addicted to getting fucked by strangers at her local swinging club in Holland. And Jentina Small is back at PSS after enjoying her first taste of sub-dom sex so much — now she wants ringmaster Pascal White to take charge of her asshole as well, with added spanking.
Anal Milfs No Lube 4 features bondage, hard spanking, choking, face-slapping & spitting, deepthroat & face-fucking, and squirting. All the sluts are ordered to drink Pascal's spunk at the end of their scenes.
All scenes are uncut and shot in HD. Run time is 2 hours 58 minutes. View the trailer at:
http://promo.pascalssubsluts.com/videos/dvd-trailers/ PSS_DVD_Anal_Milfs_No_Lube_4_trailer.mp4
Anal Milfs No Lube 4 is available to adult retailers and distributors exclusively through Exile Distribution. Call (818) 576-9464 or e-mail howard@exiledist.com.
For foreign and domestic DVD sales, licensing and broadcast, contact Jerry at juicyvideo@aol.com or (818) 576-9464.