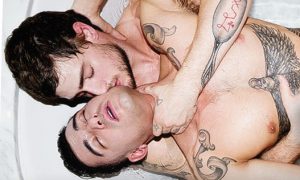 New York, NY- CockyBoys has just completed a stunning series of 5 short stories called MISSED CONNECTIONS and all scenes are now playing exclusively at CockyBoys.com. The series highlights the time before the digital age when there were no hook-up apps but people relied on good old fashioned flirting to meet. You could be anywhere at any time and suddenly the perfect guy casually walks into your life. You lock eyes and you can tell he's feeling it too. And then sometimes nothing happens at all. There is excitement, seduction, frustration, and mystery… a 'missed connection'.
This anthology series explores five short stories of gay men making connections at the right place but the wrong time. They recall these moments of inexplicable spontaneous affection on the 'Missed Connections' section on Cragislist — a pre-Facebook corner of the Internet that's surprisingly still alive, energized by those hopeful romantics unwilling to let him be the "one who got away." Even though the service is not 100% foolproof, fate still has a way of giving second chances. This standout series stars CockyBoy exclusives Ricky Roman, Taylor Reign, Tegan Zayne, Levi Karter and Justin Brody with Max Holt, Jay Mercer, Alessandro Haddad, and Jack Hunter.
CockyBoys CEO and Director Jake Jaxson describes the series best, "This series is about that quick rush of adrenaline that makes you tingle when you've caught the eye of someone you don't know but admire, and hoping the look will be returned. The look that can make your day… and even change your life. I miss the chance encounters of my youth, when, for lack of money, I rode my bike all over the city. The hot summers of New Orleans kept me in shape and on the prowl. Perched on my bike I had the perfect spot to see and been seen. And those days are fondly remembered."
He goes on to say, "Recently, while looking for movie props on Craig's List, I decided to check out the 'Missed Connections' section mostly because I never understood the purpose and boy was I surprised. It was a collection of such wonderfully sexy and arousing posts. Men all over the city detailing those very chance encounters I loved and missed when I was younger and unattached — those missed moments at coffee shops, subways, parks, and steam rooms. Some even looking for, and detailing that perfect one night stand, or fretting over lost phone numbers. Writing in detail what they would do if only they had another chance at making a first impression."
Jaxson closes by saying "I was overwhelmed, turned on and inspired. And so we now bring you our new series "Missed Connections," our little interpretations from actual ads we found online. This is our ode to flirting, and to "putting it out there," Be they quickies, NSA, a flash in the pan or maybe even forever."
Watch the full series of MISSED CONNECTIONS, now playing exclusively on CockyBoys.com.