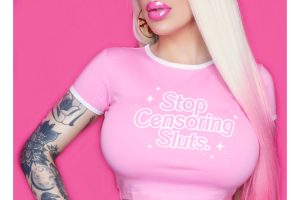 LONDON – Instagram's self-regulation has spread to include "sexually suggestive" content, with the company announcing that, "We have begun reducing the spread of posts that are inappropriate but do not go against Instagram's Community Guidelines."
Read YNOT's report on this development here.
According to TechCrunch, "That means if a post is sexually suggestive, but doesn't depict a sex act or nudity, it could still get demoted." Translated, that means sexy posts may not show up in feeds or searches or be deleted entirely.
"Be A Bimbo" founder Alicia Amira doesn't like this one bit.
"This is a huge setback for our human rights because, with this new algorithm they are about to create, they will be 'hunting' down content that could be considered inappropriate in order to teach a[n] [AI] machine what to look for," Amira said.
"This means that if a post is sexually suggestive but does not include nudity or a sex act, it could still get demoted," she added. "So, basically, it means that Instagram has found a way to get rid of and silence, the hundreds of thousands of women who they want to delete but can't because of 'technicalities' like the one that they haven't actually done anything wrong."
Amira has teamed up with fellow sex worker and recognized artist Exotic Cancer to raise awareness and to fight the censorship. They are using the hashtag #stopcensoringsluts to fight back and are releasing anti-censorship crop tops and  limited edition art pieces as well. Amira has also kicked off a new blog, "Bimbo Life," to talk about these issues and will be working to organize meetups for likeminded women.
Contact Amira via Twitter at @aliciaamiraxxx to find out more.