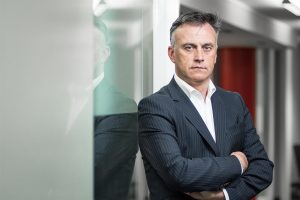 For Alastair Graham, the CEO of AgeChecked, age verification happened by accident.
"[Approximately three years ago,] I saw my young nephew watching something on YouTube that was clearly not appropriate for someone of his age," Graham explained. "It started me off thinking How could I have prevented that situation?and ended up becoming a business for me."
As part of this month's in-depth exploration of age verification, we corresponded with representatives from the three major existing service providers — AVSecure, AgeChecked and AgeID. Here's what Alastair Graham, the CEO of AgeChecked, told us via Skype audio interview. (Transcription edited for length and clarity.)
YNOT: Can you describe the services AgeChecked provides?
Alastair Graham: We provide a range of age verification services that cover requirements across a number of sectors. In the U.K. and in other countries, there are many different categories of age restricted products and services that have rules and regulations that restrict access for children. The regulations are quite varied, yet our services give the website operator the ability to understand the person they're doing business with is of a right age for them to be buying a particular product or service.
You mentioned "other countries," but it seems like everyone is very focused on the U.K. – why?
That's a really good question. The U.K. is leading the way, to a certain extent, in age verification because the government decided to tackle the adult content industry for the whole internet. This is a different in approach from other countries that have tried to introduce age verification where they've primarily just been looking at content providers within their own territory. What makes this different in terms of scale and ambition is that the U.K. decided they don't mind where the content is coming from, they want to make sure there's age verification in the U.K. on all of those sites.
They're being ambitious because they're taking on an issue that hasn't yet been solved on the internet, so there's a lot eyes on how the government is taking this on. A lot of interested parties are watching from the sidelines to see the solutions that the U.K. is going to bring in and see how well they succeed. Depending on how well it goes, there'll be either copying or taking their own particular versions and then running with it themselves. But it very much does seem that the U.K., at the moment at least, is at the forefront of this.
How are age verification services in this context implemented?
Well, the actual implementation can be very straightforward. We can provide a merchant with simple plugins that would fit certain CMS builds, or we can provide APIs. We have a modular system, so depending on the complexity and capability of the operator, we allow them to use our services in a number of ways that best suits the customer flow that they want. Ideally, we're providing the most frictionless type of age verification possible each time a customer visits a site. We are acutely aware, especially in the adult industry, that measures that cause the website user to pause, to think, to enter information are not good for the customer flow. So, we look always look to minimize actual requests for information.
We don't want somebody having to go through age verification many times. We don't want them to go from one site to another site to another site and still have to do age verification. So, core behind our services for the adult industry is the ability to log in once and use that age verified login many times — to seamlessly go from site to site without any sort of further intervention.
So then, the only main roadblock would be if a consumer is age verified within one service provider's system but not in others?
Yes and no. There's a group of us — age verification providers — that have been talking about the ability to take each other's credentials. So, one of the comments that came back very clearly from the industry last year was, "Why can you guys not be working together?"
There are technical and commercial challenges, but there's a number of us out there that have basically been tackling [this issue]. We have agreements in place so that you could use another competitor's login to log in to sites such as ours, and vice versa — we would accept somebody else's login.
Who pays for this service, and what are the costs?
This service is paid for by the website operators. Cost is largely dependent on the amount of volume, the amount of traffic, the amount of server load. So, there's not a set fee, there's a scaling cost.
What I can say that's worth noting is that the costs of using age verification solutions have dramatically come down from the initial prices that were discussed in the industry three years ago when we were all thinking about the old style of [verifications]. The technologies that we've developed are largely the reason behind this. The cost of age verification should not be a challenge to a business model at all.
In your view, what's the core purpose behind age verification?
The core of the legislation, the goal of it, is to prevent young children from accidentally stumbling across adult content. This is not an anti-porn measure. Somebody who's sixteen, who actively is looking to get to adult content, is out of scope.
You may ask, "What if I'm sixteen and I steal my father's details and try to get around it this way?," but the question is addressing something we have not be asked to fix. It is not the role that age verification providers should take. If we were to take it, we'd all have extremely difficult clunky systems to put on websites and nobody would use them.
Instead, it's a risk-based approach. It's light touch. These measures aren't about 100 percent accuracy. This is about fixing 80 percent of the issue in a sensible manner. It's about protecting young children rather than smart sixteen-year-olds.
How are you marketing this to the public?
As an industry, most of the industry providers in the U.K. have come together to create an organization – the Age Verification Providers Association — where, collectively, we can talk about this in a positive way that's not biased to any particular solution. We talk about the advantages of what we're doing, how we're doing it, how we're protecting people's data, etc.
What we are also doing is demanding that, as soon as possible, the British regulator or the associated ministry can get behind a public education program to get the message out. It's sometimes a little frustrating, the speed that these things work at, when as an industry we're ready and the adult industry themselves are ready. We seem to be waiting for the regulator to get the story out to the British public and press the green button.
Certainly more can be done, but this is a case of holding fire until everything is lined up. I'm very much looking forward to the day when we get support from the actual organizations that are responsible for governing this, and they start explaining these measures to the public. There are some serious issues that need to be understood. We are asking people to trust organizations that might be completely new to them, to take them through verification and look after their data and behave responsibly. The public still needs to know what age verification is all about.