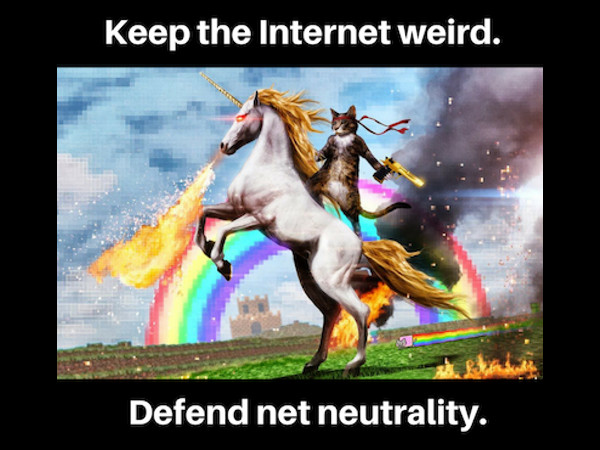 On Wednesday, July 12, more than 60 companies, along with independent websites and individuals, banded together to support the internet-wide Day of Action to Save Net Neutrality. Digital giants like Amazon, Netflix and Twitter, and advocacy groups including the American Civil Liberties Union, the American Library Association and Change.org displayed banner ads, pop-up alerts, blog posts, memes and other calls for rank-and-file internet users to oppose U.S. Federal Communications Commission Chairman Ajit Pai's proposal to rescind the Open Internet Order of 2015.
In a nutshell, the order prohibits internet service providers from blocking, slowing or otherwise discriminating against websites and online services. All traffic is to be treated equally. Under Pai's proposal, ISPs would be free to set their own rules. Companies might have to "pay to play," and the internet no longer would be a source of uncensored, unfettered information and entertainment.
Standing beside the titans of online commerce — and smaller mainstream players, too — were a handful of adult entertainment companies including Pornhub, Kink.com, ManyVids, Porn MD, RedTube, YouPorn and iWantClips.
Some made big splashes — like Kink.com, which obscured its homepage with an alert and a plea to join the cause by contacting the FCC. Others made much smaller — but no less earnest — statements, like placing a banner at the top of their homepages. iWantClips posted a blog entry about why net neutrality is important to those who surf porn sites. ManyVids mounted a social media campaign called #TheInternetIsMine.
Interestingly, the protest's official website, BattleForTheInternet.com, listed the adult entertainment companies right along with the mainstream protesters, illustrating, in a small way, the egalitarianism that may disappear if net neutrality falls.
Will the Day of Action have any effect on the course of future events? It's too early to tell. If enough end-users heeded the warning spread by the companies participating in the protest, perhaps the FCC will listen. Then again, the current Republican administration has demonstrated an appalling unwillingness to listen to the people it purports to represent.
In any case, for at least one day, the social-leper industry took a stand alongside its "clean" online brethren … and the clean didn't seem to mind standing shoulder-to-shoulder with the lepers.
Funny how a threat can bring disparate interests together to fight a common foe.
Reverend William T. Cummings famously stated, "There are no atheists in foxholes." Evidently, there are no censorship-happy hand-wringers on the free and open internet, either.