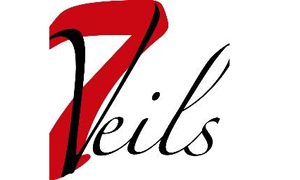 Cyberspace – After a meteoric rise to prominence in adult over the last few years, 7Veils Social Media Management is now engaged as the social media strategy partners of two of the most venerable brands in the history of adult online. ThePhoenixForum, and it's host company CCBill.com recently selected 7veils from a field of candidates to serve as the official social media partners for the event and the payment processing company on an ongoing basis.
"We are thrilled to be working with ThePhoenixForum in 2018 to help make the industry's signature event even more social," said Lauren MacEwen, chief strategist and CEO of 7Veils.com "Having seen the impact that the show has had on my own business and on the businesses of so many other companies in adult, I see it as an important responsibility to make the show as accessible to newcomers as it can be while also maintaining the level of discretion and familial camaraderie many who have been in this industry for decades expect of the show. Working with CCBill in the broader sense on a year round basis should facilitate greater reach for the show itself and will hopefully make the CCBill team even more accessible between events as well."
7Veils Social Media launched in 2014, nearly two decades after the CCBill brand and ThePhoenixForum were born. In a short period of time the company has attracted dozens of noteworthy brands in adult and in other verticals as well by demonstrating the ability to attract and monetize traffic via several different social media channels including: Facebook, Twitter, Reddit, Instagram, Tumblr and more.
"I can't imagine anyone being more social than Lauren Macewen, and after getting to know the whole team at 7veils I have been impressed with the professionalism that permeates all that they do," said Gary Jackson, Vice President of Sales and Marketing for CCBill.com "We originally had a smaller deal in mind, but the more we talked the more it made sense to work together on a more enduring basis. We are expecting a lot from working with 7veils and knowing Lauren, I am quite confident that they will deliver all that and more."
For more information about the upcoming Phoenix Forum even be sure to check the TPF website. 7Veils will be in attendance and meetings can also be arranged via www.7veils.com