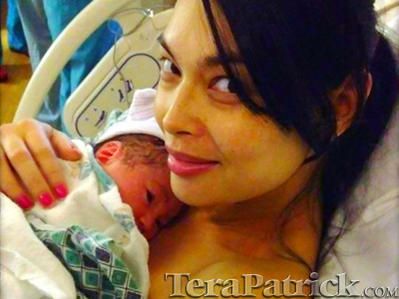 MONTREAL (YNOT Wire) – FameDollars, a division of Gamma Entertainment, is pleased to announce its business partner, award-winning porn star Tera Patrick gave birth to a healthy daughter. Sophia Evelia Acosta was born at 5:01 a.m. Feb. 25 in Los Angeles. Her father is Tony Acosta, a prominent Hollywood special effects artist known for his work on 300, Dawn of the Dead and the recent Superman movie, Man of Steel.
"It was an easy labor," Patrick said. "She's such a perfect little angel, and I'm enjoying being a mother for the first time.
"I want to thank my family, my Gamma family, my loyal members at TeraPatrick.com, my fans, friends and all my social media followers," she added. "We've received nothing but kind words, warm wishes and beautiful gifts."
In 2010, Patrick released her memoir, Sinner Takes All, which chronicles her path to stardom and her love life. She is a supporter of the Restricted to Adults website labeling initiative and in 2009 was honored with the Annual Service Recognition Award by the RTA's developer, the Association of Sites Advocating Child Protection, for her efforts to protect children online.
Patrick has transcended hardcore adult content to achieving mainstream celebrity status, emerging as the millennium's first authentic global sex symbol. In addition to her work in adult, she was cast in a controversial horror movie filmed in Indonesia and provided promotional support and voice talent for the popular video game, Saints Row 2.
For more information, follow her on Twitter @tera1patrick.