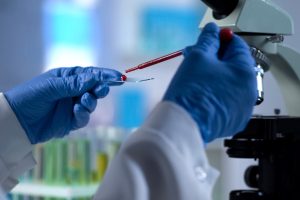 Earlier this year, a debate broke out over the prospect of allowing HIV-positive—or poz—performers into the mainstream adult entertainment industry. Many in the industry took sides, and the controversy has continued to fester over the past nine months. Last week, Mark Hay at Rewire.News broke it all down with an article that dug into porn industry politics, the latest testing science, and changing attitudes around HIV in both adult entertainment and the world at large, and spoke with researchers, industry insiders, and performers alike. It's a great read for anyone in porn (or elsewhere) who's trying to figure out how to feel about this divisive topic.
Hay began by recapping the past few decades in HIV prevention in adult entertainment, detailing FSC Pass. He concluded, "Most of the sexual health experts we spoke with say the PASS is a decent tool for minimizing [HIV-]transmission risks." 
Carl Dieffenbach, director of the Division of AIDS at the National Institute of Allergy and Infectious Diseases, told Hay, "'You would have to get infected with HIV within a day of testing negative' and become infectious just before your next test, for the PASS system to fail…But you're probably more likely to get hit and killed [while driving] on the Los Angeles freeway.'" 
Still, reported Hay, "Over the last few years, a rift has crystalized within the porn world over how to approach HIV." He cited performer advocacy groups the Adult Performers Actors Guild (APAG) and the International Entertainment Adult Union (IEAU), both of which are concerned that the PASS system "can miss an infection if one's viral load is low enough"—which can happen to poz individuals who are adhering to proper treatment regimens. Folks at APAG and IEAU, wrote Hay, fear that these low loads can allow "some undetectable poz people to lie about their status and work freely in mainstream porn."
Hay then dived into the science behind the "Undetectable = Untransmittable" (U = U) slogan that poz activists—and many scientists—stand behind. According to Paul Fulton at the CDC, wrote Hay, "Someone with a sustained undetectable load has 'effectively no risk of transmitting HIV to their HIV-negative sexual partner.'"
But individuals in adult entertainment who are skeptical of the science are pushing for FSC Pass to adopt "new testing protocols using both viral load and antigen and antibody tests," which take longer than the current tests in use to detect HIV—but which can detect lower viral loads. These skeptics "want to make it standard for performers to test two to three times before initially being allowed into the talent pool," wrote Hay, "to be sure that no one in the industry has HIV." 
The FSC voiced concerns over the higher costs associated with these tests, effectively driving low-income folks out of the industry or toward less-reputable producers who don't use FSC PASS. The squabbling over testing protocols and the science behind them has divided the industry into two factions. On the one side, wrote Hay, "Many within the FSC have embraced U=U messaging," and "In recent years, key members of the FSC have started to push back on HIV stigma." On the other side of the divide, IEAU founder Phyllisha Anne told Hay that she believes, "If you have HIV…you no longer have the right to be in porn." End of story.
Tensions hit a peak at this year's Adult Entertainment Expo, wrote Hay, when FSC representatives at a panel on HIV science suggested, "Creating a new PASS Plus system, which would exist parallel to the PASS system, and would not blacklist poz performers with undetectable viral loads. HIV-negative performers could opt in to working in that talent pool, accepting that they might work with poz but undetectable co-stars." 
But this suggestion was met with an immediate backlash from APAG and IEAU members—a backlash which has not let up in the nine months since, and which continues to divide the adult entertainment community in America and abroad. 
Hay declared: "The fact remains that people with low HIV viral loads would pose such a negligible-to-nonexistent risk under even the current PASS testing system, and risk mitigation tools like PrEP are so effective and accessible that no sexual health expert Rewire.News spoke to for this article saw any reason undetectable poz people shouldn't be allowed to work on mainstream porn sets."
But the stigma against HIV-positive individuals is the result of decades of fear, disease, and death that hit the porn industry hard in the nineties, Hay reminded readers. "The notion that people with HIV are inherently dangerous and that we need to be especially concerned about HIV as a risk 'has been hammered into people's heads for over 30 years,' said Cameron Kinker of the Prevention Access Campaign, an organization promoting access to sexual health information for people living with HIV." 
It will take time to overcome that long-standing stigma. Performer and APAC representative Riley Reyes told Hay, "If some individuals don't feel confident in the takeaways their peers and public health experts are drawing from recent science, then that needs to be respected. Everyone in the industry deserves to feel safe."
"For now, though, the fear-motivated side of the debate prevails, for better or worse," wrote Hay. "'It will take years of success stories for people to believe in the U=U narrative,'" Reyes told him, "'enough to entrust their health to it.'"