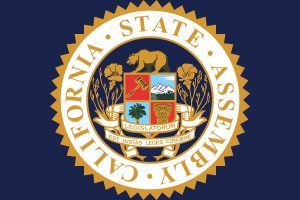 The state of California used to be a porn-makers paradise. But, for years, it's been getting more and more complicated. Legislation seeking to control the use of condoms and STI testing protocols has ping-ponged its way around local, county, and statewide voting ballots, legislative bodies, and beyond for the past decade. Now, California Governor Gavin Newsom has signed Assembly Bill 5—AB5—into law. 
When it goes into effect early next year, the law will change the criteria for who can be considered an independent contractor versus an employee—and seek to grant the newly dubbed "employees" benefits and protections like overtime pay, minimum wage, and workers' compensation. And that leaves the adult entertainment industry reeling.
The vast majority of porn companies have long hired performers, crew members, makeup artists, and even directors as independent contractors to create scenes for their films. These employees are paid flat rates with no taxes withheld or benefits added, and the contractors are left to figure out how to handle that money. End of story. 
Now, with AB5's implementation only a few months away, that might all have to change. And so far, there are a lot of mixed feelings within adult about that possibility.
Alana Evans, president of the Adult Performers Actors Guild, wrote in a statement about AB5, "The passage of #AB5 in California is a massive win for gig workers in the state. As the list of workers affected by misclassification grows, the adult film performer has always been part of this family. Often labeled as independent contractors, workers in adult film are left without many benefits the average employee enjoys…Being recognized as an employee will ensure you are protected, paid properly, and more prepared for your future."
But not everyone is thrilled about the idea. Sociologist Dr. Chauntelle Tibbals told Fortune magazine, "For performers, it's probably not going to have much of a negative impact, aside from the fact that they'll see less money…They're used to getting their day rate. Now they're going to have taxes taken out of it. It's also going to cost producers time and money to do that."
Then again, nobody is quite sure, just yet, if anything will actually have to change. The criteria by which the law judges whether an individual must be considered a contractor or an employee are relatively ambiguous, which means that arguments can likely be made to classify performers as independent contractors. Workers who can be considered independent contractors under AB5 must meet all three of the following criteria: 
(A) are free from the control of the employer in connection with the performance of the work, both under the contract for the performance of such work and in fact;
(B) do work that is not in the usual course of the hiring entity's business; and
(C) are customarily engaged in an independently established trade, occupation, or business of the same nature as the work performed for the hiring entity.
Right off the bat, adult performers clearly won't be covered by B), since the work they do is the very meat and potatoes of the adult entertainment industry. Then again, production companies are in the business of selling the content they make, whereas performers are in the business of creating it. The distinction could be important.
And both A) and C) are arguable: The amount of freedom production companies allow their performers varies from set to set. And since most performers work in adult-oriented fields like camming, feature dancing, and so on when they're not shooting for a production company, which makes them "customarily engaged" in the industry outside their on-set hours.
Over two months remain before AB5 will go into effect—plenty of time to see how the law is interpreted and argued against by other industries in California. One of those industries—Hollywood—is likely to provide a template that its less exalted cousin to the north can take cues from. And it's likely that discussions over the law's interpretations will continue well into the new year.
Whatever happens, one thing is certain: It's not getting any easier to make porn in California.